Health Walk - Piercefield Walk
Route Overview
Please see PDF below for route map.
This is a moderate walk with three inclines that can be taken at an easy pace. Points of interest include Piercefield House which dates back to the early 19th century and was designed by Sir John Soane. The house is a Grade 2* listed building and the parkland Grade 1.

Also Chepstow Racecourse which was established in 1925 and The Piercefield Walks which date back to the 1750's and were frequented by poets, artists and writers as part of the Romantic movement. The paths still retain some of the original viewpoints.
Piercefield Heath Walk
Route Information
| | |
| --- | --- |
| Time/Effort | 1 out of 5 |
| Navigation | 1 out of 5 |
| Technicality | 1 out of 5 |
| Toilets | There are toilets in the Leisure Centre. |
| Refreshments | None on route but there are cafes in Chepstow Town Centre. |
Route Details
There are approximately 26 meetings a year at Chepstow Racecourse with both flat and jump racing. The course is home to several prestigious meetings, including the Welsh National.
In the last few years the Piercefield Walks have been subject to substantial investment by 'Overlooking the Wye', a Heritage Lottery Fund project managed by the Wye Valley AONB.

Nearby
Route Essentials
Walk Route: Chepstow - Piercefield - Wye Valley Walk - Chepstow
Duration: 1.5 hours
Miles: 3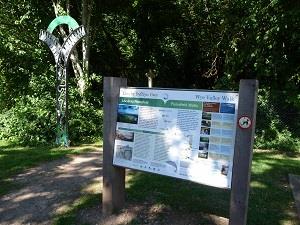 email a friend