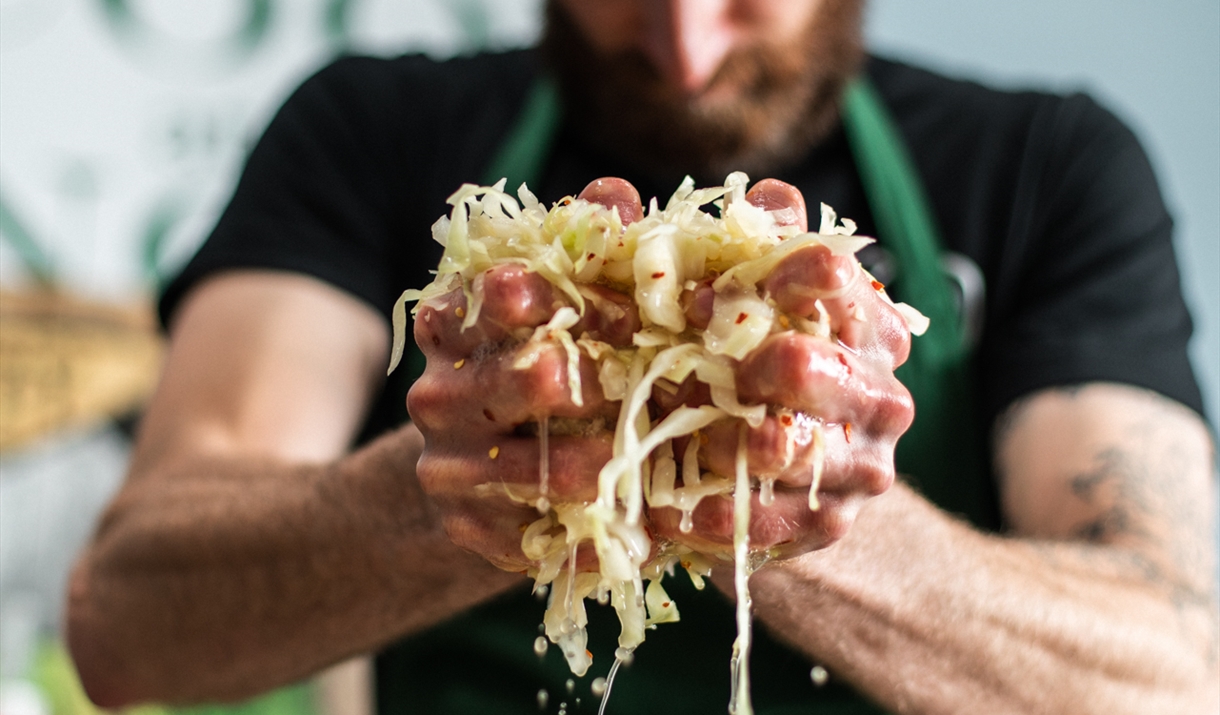 About
FERMENTATION IS FUN!!

Both sauerkraut and kimchi are made using a technique referred to as lacto-fermentation. Where lactic acid bacteria (LAB), are the microrganisms responsible for changing raw vegetables into a complex mixture of lactic acid and chemical compounds resulting in new and funky flavours!During our workshop you'll learn the skills and techniques necessary to create a successful lacto-ferment at home every time! Our 2.5 hour course starts with a welcome drink of our house made kombucha along with a few tasters of our core range of sauerkraut and kimchi, (with an occasional one or two kitchen experiments we've been working on) ;-)

From here we dive into what fermentation actually is and the scientific methodology of how we as humans can harness it to do our bidding. This involves touching on some basic scientific principles to assist in the understanding of what we are actually doing when we 'ferment' something. These principles will be ESSENTIAL when making a successful ferment on the day and at home. Throughout the workshop we touch on some of the nutritional facts surrounding fermented foods and why the term 'probiotics' is thrown around so often. As nutritionists, we'll share our knowledge about nutrition, gut-health and how fermented foods can play a role in improving our health and strengthening our immune systems. Each participant will have the opportunity to make their own unique sauerkraut using a selection of herbs, spices, fruit and veg. Additionally, you'll learn how to make an authentic style kimchi. Each participant takes home two 750ml kilner style jars of both their prepared saurkraut and kimchi along with at home care instructions to ensure you have all the tools necessary for your ferments to turn out fantastic!

Fermentation is also a delicious and nutritious way to use up spare fruit and veg. You'll learn how you can make the most out of precious food, by providing another tool in the fight against food waste!

WHAT DO I BRING..?

Nothing! Well maybe some clothes - knives and nakedness tend not to mix...

Seriously though, we'll provide you with everything you need (including some tasty samples to try mmm)

WHERE IS IT HELD?

We'll be holding the workshop at our very own fermentation kitchen located on Bentley Green Farm, Crick just outside of Chepstow and a easy-peesy drive from Bristol.

WHAT DO YOU GET?

- Expert instruction and guidance on how to produce your own sauerkraut and kimchi at home, safely and effectively.

- Tastings of Crafty Pickle Co. fermented foods (and more!)

- Knowledge of fermented foods by nutrition professionals! We both have a BSc & MSc in nutrition and are Registered Associate Nutritionists. We are here to explain why fermented foods can be so good for us, how they can be included in a healthy balanced diet and what the current science says about these foods.

- Bring home a jar of your very own, handcrafted sauerkraut and kimchi

See you there!

With Kimchi & Kisses,

Madi & Arthur - The Crafty Pickle Co.
Book Tickets
Guide Prices
| Ticket Type | Ticket Tariff |
| --- | --- |
| Adult | £55.00 per adult |
Note: Prices are a guide only and may change on a daily basis.
Map & Directions