Health Walk - Mathern & St Pierre
Route Overview
Please see PDF below for route map.

2.7 miles from the village of Mathern, through farmland and the St Pierre golf course.

This moderate walk has five stiles and one steady ascent. Points of interest include St Pierre Church and Pill Cottage, a former Customs House. This walk can be extended by linking with the Mathern & Wyelands walk.
Mathern St Pierre PDF
Route Details
Mathern was originally known as Merthyr Tewdrig – or the burial place of Tewdric. It was located where the head of an inlet of the Severn, St Pierre Pill, met an important trade route between Monmouth and the east.
Pill Cottage used to be a customs house at the time that the inlet from the Severn was navigable.
St Pierre Church dates from Saxon times and had Saxon and Norman features. Inside there is a stone coffin lid from the grave of the first Norman lord, Urien, who died in 1295.

Nearby
Route Essentials
Walk Route: Mathern - St Pierre - Mathern
Duration: 2 hours
Miles: 3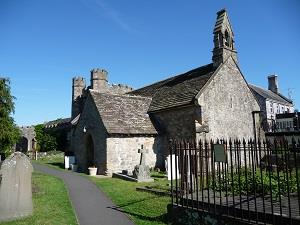 email a friend