Health Walk - Mathern & Wyelands
Route Overview
Please see PDF below for route map.

A 2.8 mile circuit in farmland between Mathern village and Chepstow.

This is a moderate walk with several stiles and moderate inclines. Points of interest include St Tewdric's Well and Mathern Palace, a former medieval bishop's residence. This walk can be extended by combining it with the Mathern & St Pierre walk
Mathern Wyelands Walk
Route Details
Tewdric was a king of Glwysing and or Gwent in the 7th century. He had abdicated to become a hermit near Tintern, but returned to lead his people in a famous victory against the Saxons. It had been prophesized that he would be victorious, but that he would be mortally wounded, that two stags would bear his body and that pure water springs would well up where he rested to clean his wound. St Tewdric's Well is reputedly the last of these resting places, where he died.
Mathern Palace is a former mediaeval Bishop's residence. Having fallen into disrepair, it was bought by Henry Tipping, writer and garden designer, who renovated the house in the Arts and Crafts style and laid out the gardens.
Wyelands is a regency villa built about 1820 for Sir George Buckle who became High Sherriff of Monmouthshire at the time of George III. It was designed by Robert Lugar who was also the architect for Cyfarthfa Castle and Balloch Castle in Scotland. It now operates as a tourism venture, available for large parties, corporate events, etc.

Nearby
Route Essentials
Walk Route: Mathern - Chepstow - Mathern
Duration: 2 hours
Miles: 3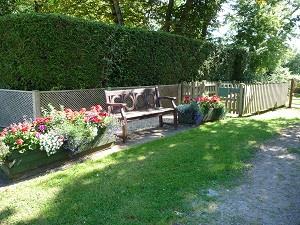 email a friend